Following a successful opening round in Surrey, the British Trials Cup was in Blackpool over the May bank holiday weekend for round two, which was held on the man-made rocky formations along the north shore.
Eight very challenging sections had been set, claiming fives from even the most talented of the 48 riders in attendance and gave a very wide range of scores across all classes. Unfortunately, due to the nature of the terrain and restrictions put in place by the local council (no drilling, etc.), it was impossible to tape the sections as comprehensively as the organisers would have liked, which gave rise to complaints from some riders about the manner in which some other riders were riding the sections – by finding 'shortcuts' and lines that allowed them to get through difficult gates using strategic dabs, rather than riding the lines in the way that was intended.
In the Elite class it was nice to see local(ish) rider and former World Champion Ben Slinger (Trials Display/Tarty Bikes) making a return to UK competitions. Would he be able to offer a challenge to reigning World Junior and British Elite Champion Jack Carthy (Enter Bike/Crewkerz/Cross King)? Scott Wilson (54 Sport) and James Sheridan completed the category. From the off Carthy was riding strongly, clearly the favourite for the victory as he racked up a string of cleans, making his way swiftly through the sections. The only blot on an otherwise perfect first lap came mid-way through section six on an awkward hook with a technical, stepped run up that gave very little room to build up the speed needed to get to the top. Jack fell foul of this as he just didn't get his front wheel seated properly on top of the ledge, forcing him to jump backwards of the bike for a five. Slinger was also riding well, making short work of the majority of the sections and showing that he definitely still has the skills! Three fives and a few dabs on some of the more difficult passages saw him come in on 19 after his first lap. With Carthy riding as strongly as he was, would Slinger be able to catch him now? Scott Wilson wasn't far behind Ben, coming in on 27 after lap one, favouring the more static, sidehop-friendly sections but coming up short on some of the bigger hooks and gaps. If he could hang on and improve that score on his second lap it looked like the battle of the day would be between him and Ben for second place. James Sheridan was playing catch-up a little bit, with 37 points on his card after a difficult first lap that saw him only getting through section four without a five.
Lap two saw Slinger's hopes of a victory dashed as Carthy improved on his already-impressive second lap score, working his way through the sections picking up yet more cleans. He took his time walking through section six, checking out every possible approach to the hook that had cost him a five earlier in the day. When he got to it on his bike, he stopped on the lower part of the run up and sized up the ledge before popping up onto his rear wheel and hopping forwards once to get some momentum before throwing his bike onto two wheels on the step, throwing in a quick pedal and launching up on the ledge. His front wheel stuck and for a second it appeared as though he had made it. Adjusting his weight however, the bike started to slip backwards and he was forced to put a foot down on top to avoid a repeat of his first-lap fiasco and lift the bike onto the ledge. That put his total score at six points, assuring him the victory and further cementing his position as the UK's top rider. With victory out of his reach, Slinger needed to focus on keeping Scott at arm's length in order to take second place. An almost mirror image of his first lap, with a two becoming a one on section six, meant that it looked like this was going to be no problem. However, as he made his way through section two, with some difficult big moves, he came up short and had to take a five for a second lap score of 22 and a total of 41. If Scott could improve on his first lap enough he might just be able to sneak into second place and knock Ben in to third. Unfortunately for Scott though, he picked up two extra dabs on lap two, putting him on a total of 56 and out of reach of the silver medal. James Sheridan, despite shaving off four marks from his first lap score, finished in fourth place on 70 points.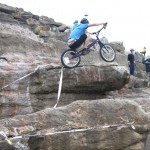 In the Expert class, James Bancroft was faring very well on the challenging sections, with four cleans, three two's and a one on his first lap and just three ones on his second, putting him comfortably in first place. Powerhouse Matt Arkwright (Tarty Bikes) was flying over the big moves, making sidehops, hooks and gaps look like child's play, but struggling with some of the more technical passages. First and second lap scores of nine saw him finish in second place, eight points behind James. Dan Wheeler completed the podium, finishing on 27 points after a savvy and consistent trial that saw him getting through almost every section (just one five in section seven on his first lap) and making use of some strategic dabs to get around some of the harder moves. James Davis (Onza Bikes) just missed out on a podium finish with 31 dabs with his admirable clean or five approach to most of the moves sadly costing him in the end.
Charlie Rolls (Jitsie/Hope) and Olly Lawer fought a tight battle for the Cadet class win, both finishing on 15 after lap one and Charlie coming out just on top on lap two, finishing on 12 points for a total of 27, ahead of Olly on 28. TJ Reynoldson finished in third place on 48.
The Senior class saw Rob Rook take the win in his first ever national trial, finishing on 31 points. Paul Hayward was not far behind on 40 points, ahead of Darren Ring on 46.
Adam Morewood (Onza/Jitsie/Tarty Bikes) had a great trial, taking the win in Intermediate and attacking every section with ease and style. Just an unfortunate five on section six on his first lap spoiling an otherwise perfect scorecard. Second place went to Sam Rolls, who also had a great ride, improving on almost every section on lap two for a total of 15. Toby smith finished in third place on 21 points.
In the Over 15s Novice class, Elliot Tickner had a convincing win, finishing on 24, ahead of George Rogers on 76. In the Under 15s group, Sam Shepherd (Tarty Bikes/Langsett Cycles) managed a perfect trial, cleaning every section to finish on zero and take the win. Second place was decided on most cleans between Aspen Hopkins (two cleans, second place) and Jamie Smith (one clean, third place), who both finished on 44 points.
Josh McParland finished on 14 to take the Primary win, ahead of Callum Fowler on 28 and Charlie Cripps on 31, while Luke Henderson finished on 35 in the MTB class to take hime the gold medal.
Thanks to series sponsors Onza Bikes, Tarty Bikes, Trialtech and Trials King, and to everyone that made the trial possible, especially to Barbara Wright, Mick Carthy, Robin Morewood, Graham Tickner, Nigel Shepherd, Ben Swales, Neil Robinson and Paul Hayward for all their hard work on the day and in the lead up to the event. Round two of the British Trials Cup will be held on Saturday 7th and Sunday 8th June in Fort William alongside the UCI DH World Cup. Entry forms are already available from www.biketrialuk.co.uk/Events. This will be a two day event – see the entry form for more details on this and on entry passes to the wider event.
- Words: Ben Swales
- Photos By Aaron Browne
Results: biketrialuk.co.uk_Results_BC-2014 – 2 – Blackpool