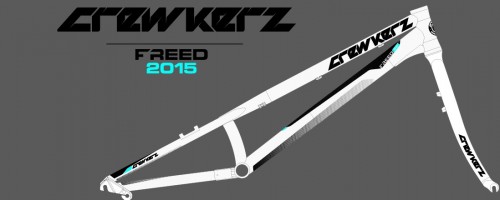 Crewkerz acaba de anunciar el lanzamiento de  la FREED 2015. A continuación todos los detalles de esta bicicleta que se ofrecerá en 20 y 26 pulgadas, pero también en versión Kid. Las reservas ya están abiertas en los distribuidores de la marca, que podréis consultar más abajo. Crewkerz anuncia igualmente mucha novedades, salvo a nivel de geometría, que se mantiene idéntica a la Freed II, que salió en diciembre 2013.
Por tanto, la Freed 2015 estará disponible en 3 versiones. Es interesante ver que también estará disponible en versión Kid. Una voluntad mostrada por Crewkerz pero también por otros fabricantes, hacer bicicletas adaptadas a los más jóvenes, una excelente opción para nosotros.
A continuación toda la información que os dejamos voluntariamente en inglés

"Hi Dude,
The new Freed will be available in January 2015.
3 versions will be available : 26'', 20" and Kid.
Kid model uses a front rim and front tire on the back to have a very light bike, perfect for young & crazy riders.
These new models have some modifications :
- New color : White Mat and 100% new artwork.
– New brakes : Now we use the HS33R
– New crankset : Ligther and new design
– New Headset : Lighter in Sealed bearing version.
– New Tires : Vee Rubber WAW edition on the 26'' and Monty Eagle Pro Race on 20'' and Kid.
Geometry doesn't change on 20'' & 26''.
Kid Geometry is : 920 mm 355 mm +60 mm 71°
Weight & Publics Prices :
Crewkerz Freed 26" : 9,6 Kg — 998 € TTC
Crewkerz Freed 20" : 8,9 Kg — 998 € TTC
Crewkerz Freed Kid : 8,2 Kg — 948 € TTC
Pre-Order is open, contact our dealers to place order :
http://www.crewkerzstore.com/revendeurs-crewkerz.htm"