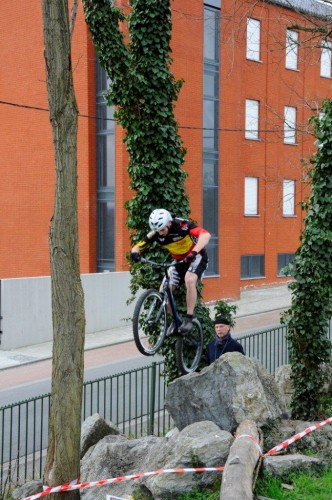 On Sunday the competition season started in Belgium with the first round of the Belgian cup organised by the Kangourous at their site next to the Velodrome in Gilly. Roberto Timelline did a great job building different sections for the young riders and the older ones. There were 5 sections for the categories Promesse, Poussin and Benjamin and 5 sections for the categories Minime, Cadet, Junior and Elite. As last year the Women are riding the Cadet sections. It was an excellent spring day and Roberto and his team build great sections that had everything needed to have a great competition: technical sections, big  jumps and physical sections. Hopefully we see more competitions like this in Belgium this year!
In the Elite category it was Iciar Vandenberg who won the competition with 17 penalty points. Nicolas Massart was 2nd with 28 penalty points. Rodrique Timelline completed the podium in 3rd place with 41 penalty points. For Iciar it was the first competition coming back from an injury and he was very happy with his riding.
The Junior category was won by Bastien Grommersch with Romain Leonard in 2nd place. Jérome van Buggenhout completed the podium. An incredible performance of Romain Leonard who is only 13 years of age.
The Cadet category was won by Bill Marechal. Romain Lassance in 2nd and Romain Maniet in 3rd completed the podium.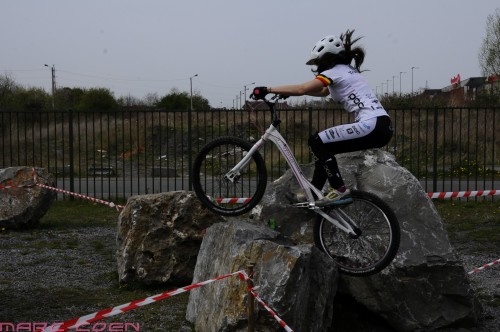 The Womens category was won by Perrine Devahive. Charlotte Coen was 2nd and  Coralie Thonus completed the podium in 2rd.
Here are the pictures of the different podiums: