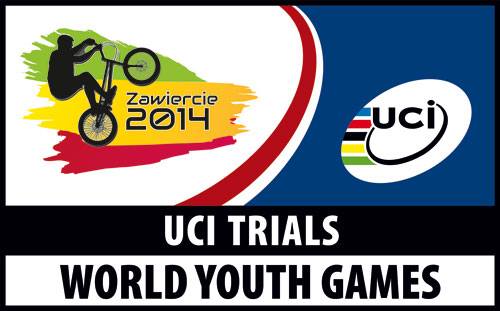 Serge Froissart manager Trial France and the French Cycling Federation decided to advance the date of the publication of the selection of the young French riderd that will participate at the World Youth Games in Poland. For riders that are selected please contact mr Froissart quickly at  s.froissart@ffc.fr.
No less than 12 clubs will represent France at the World Youth Games: Clubs that have most riders are Seynod (9) and the Trials Club Fabregues (3)
release:
"Following the results of the first two Coupe de France (Paris and Super-Besse) and classifications of various regional competitions (CIRO, South Grand Trophy and Rhone Alps Cup), the National Technical Direction and Management Trial France decided to anticipate the National selection for World Youth Games 2014 so that riders wishing to make the trip to Poland can organize themselves quickly. "Serge FROISSART
The National Team.
Nom

Prénoms

Cat

Année

Club

FEMININES – Années 2003 à 1998

BOURGEAIS
Pauline

F

1999

Cran Gevrier VTT – RA

GISONNO
Julia

F

2001

Cran Gevrier VTT – RA

JOUY
Maylis

F

1999

Trial Club Fabrègues – LAR

CAVALLIER
Lucie

F

2000

Bi Cévénnole – LAR

POUSSINS – Années 2004, 2005

CIESLA
Damien

P

2ème année

Trial Club Fabrègues – LAR

FRANCO DOS SANTOS
Noah

P

1ère année

Cran Gevrier VTT – RA

MENDES
Joanis

P

2ère année

AC Annonay – RA

RICHIERO
Valentin

P

1ère année

Cran Gevrier VTT – RA

SERIEYS
Hugo

P

2ère année

Cahors – LAR

BENJAMINS – Années 2002, 2003

CHARPENTIER
Elliot

B

2ème année

La Roche sur Yon Vendée – PDL

CHIBAUDEL
Charles

B

1ère année

Bi Cévénnole – LAR

FRANCO DOS SANTOS
Joshua

B

1ère année

Cran Gevrier VTT – RA

JEU
Thomas

B

1ère année

VTT Orgelet – FRC

MARCELLO
Melvin

B

2ème année

Passion Trial Chambery – RA

MINIMES – Années 2000, 2001

AVRILLIER-GRANGE
Gabin

M

1ère année

Cran Gevrier VTT – RA

CHARRA
Nathan

M

2ère année

Vélo Trial Labège – LAR

JANIN
Arnaud

M

2ème année

Cran Gevrier VTT- RA

SERMONET
Joran

M

1ère année

Cran Gevrier VTT – RA

VALLON
François

M

2ème année

Trial Club St Gervais – RA

CADETS – Années 1998, 1999

CARDONA
Noah

C

1ère année

Trial Club Fabrègues – LAR

GRILLON
Louis

C

1ère année

Trialistes de l'Ardoux – CEN

SAINT PAUL
Ghilem

C

2ème année

Cahors – LAR

RICHIERO
Remi

C

1ère année

Cran Gevrier VTT – RA

VALLEE
Nicolas

C

2ère année

ESC Meaux – IDF
| | | |
| --- | --- | --- |
| Name-Nom | First name – Prénom |   |
| FROISSART | Serge | Manager |
Nous contacter en urgence pour confirmer votre participation et donner votre taille (en cm) et votre taille de maillot,
Tél : 0646334964 – Email : s.froissart@ffc.fr