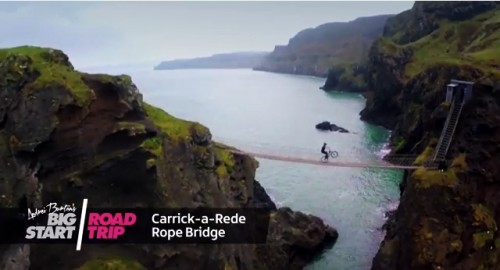 Andrei Burton, one of the world's top trials bike athletes, displays his finest cycling tricks along the 3 day route of the start of the Giro d'Italia in Northern Ireland.
Taking in some of Northern Ireland's most beautiful locations, watch as Andrei hops along the stones of the Giant's Causeway, wheelie's across the Carrick-a-Rede Rope bridge, and balances along the famous Titanic sign at Titanic Belfast.
In just over one week the Giro d'Italia will be arriving on Northern Ireland shores for the 'Grande Partenza' cycling race, one of the world's most prestigious sporting events.
The Big Start kicks off three days of excitement, drama and time trials from Titanic Belfast, through the magnificent Causeway Coastal Route and Glens and the historic city of Armagh. Find out more http://www.discovernorthernireland.co…
Learn more about the locations featured in the video:http://www.discovernorthernireland.co…
More information on Andrei and behind the scenes on his visit to Northern Ireland: http://bit.ly/1rNBzCI
Music: Sea Pinks – Lake Superiorhttp://seapinks.bandcamp.com/album/fr…
Andrei Burton: "So here is what I was up to in Northern Ireland recently! Great job by Century TV and the whole crew. Had allot of fun filming this and was great to ride so many cool places!"