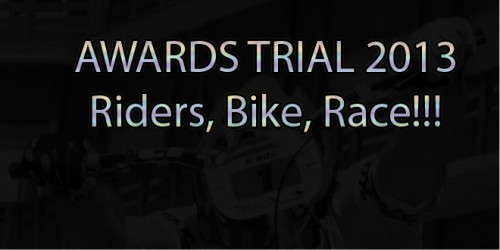 You may have noticed that we have stopped the voting for the Trial Awards 2013 we launched a few days ago ! The reason is simple , we were victim of the success of the vote amongst riders and fans.
The success of the Awards became evident with the hughe  number of shares on Facebook and Twitter. While most votes were done in full equality between the contenders , unfortunately some have entered a large number of votes thus distorting the results. For us it was clear that the vote for the Award is as Trials, you have a chance to show your talent.
Luckily our voting module allows us to control the votes … but it will take a lot of work … but that does not scare us .
With this experience we are prepare for the Trials  Awards of 2014 to determine who will be nominated and how will be able to place votes.
After numerous discussions with you, we have some interesting ideas for the future as well of the duration in which you can vote for Trials Awards.
Thank you all for your participation , the results are coming soon .
You doubt of  the success and interest in Awards? Follow this link to the Red Bull websitel http://www.redbull.com/be/fr/bike/stories/1331624325366/votez-pour-kenny
This gives us even more energy to do better in 2014.