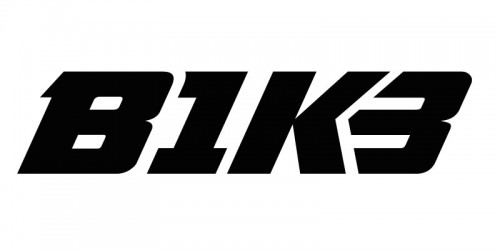 Low Coast B1K3 brand launched a few weeks ago by Ozonys presents its website that explores the full range and products. Kevin Aglae whom is in the global Top 10 UCI ranking and finished fifth at the last world championships is the brand ambassador.
Bruno Arnold informs us that the EKINOX and EKINOX Fork are now available as a single frame and fork only version Disc or HS33 model.
Find all the info on the official website: http://www.b1k3.eu/
Contact: info@b1k3.eu
Here is the information and images of the bikes.
EKLIPSE 26″
-26″ frame
-Built whith aloy 7005 T6
-Available whith HS33 brakes
-135mm rear hub
-Tension whith snail cams
-For external head set
Geometry for short model:
-Wheel base: 1080mm
-Chain stay: 380mm
-Bottom bracket high: +60mm
-Head angle: 71.5°
-Head length: 115mm
Geometry for long model:
-Wheel base: 1095mm
-Chain stay: 380mm
-Bottom bracket high: +70mm
-Head angle: 71.5°
-Head length: 115mm
the fork EKLIPSE 26″
-26″ frork
-Built whith aloy 7005 T6
-Available whith HS33 brakes or disc IS (International standard)
-100mm front hub
-Size: 1″-1/8
-Head length: 200mm
Geometry:
-Offset: +35mm
-fork length: 400mm
EKINOX 20″
Infos:
Technicals specifications:
-Built whith aloy 7005 T6
-Available whith HS33 brakes or disc brakes (International Standard)
-116mm rear hub
-Tension whith snail cams
-For external head set
-For BONZ PRO LIGHT bashplate
-Finish: blue paint matt whith EKINOX graphics design
-Weight: 1.450kg
Geometry:
-Wheel base: 1000mm
-Chain stay: 350mm
-Bottom bracket high: +75mm
-Head angle: 72°
-Head length: 115mm
The fork EKINOX
-20″ frork
-Built whith aloy 7005 T6
-Available whith HS33 brakes or disc IS (International standard)
-100mm front hub
-Size: 1″-1/8
-Head length: 200mm
-Finish: blue paint matt whith EKINOX graphics design
-Weight:   disc: 790g  Hs33: 820g  (included full head tube not cuted)
Geometry:
-Offset: +45mm
-Fork length: 365mm