At the World Cup in Walbrzych Charlotte Coen from I Love Trial Bike For Girls rode her Ozonys Curve 24 Hyd for the first time, resulting in a 7th place, where it still had it's original colors. After the competition the bike got a paintjob to match the team colors of I Love Trial Bike For Girls. Here is the result.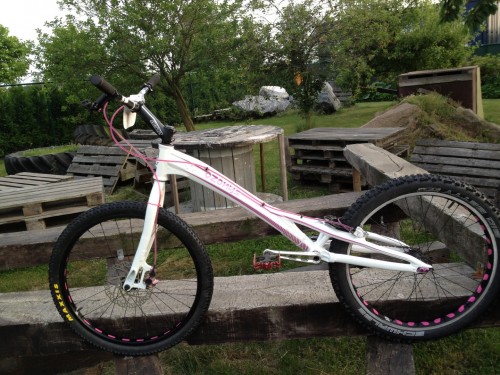 Here is a reaction from Charlotte: "I received the bike just in time for the World Cup in Walbrzych, thanks to my sponsor Enter-Bike.com, but we did not had the time to have it painted. As I currently have my final exams, we used this time to get the bike painted and I am very happy with the result. It is almost to beautifull to ride

"
The brakes installed are from the German company Brake Force One. They use a new brake lever with an incorporated hydrolic booster. The front brake is the Kill Hill version that was tuned by Tune, the rear is custom built by Brake Force One with their lever and Magura cylinders. The brake are very powerfull but do not require much effort. Brake Force One also provided custom made pink brake fluid in transparant hoses to match the color setting of the bike.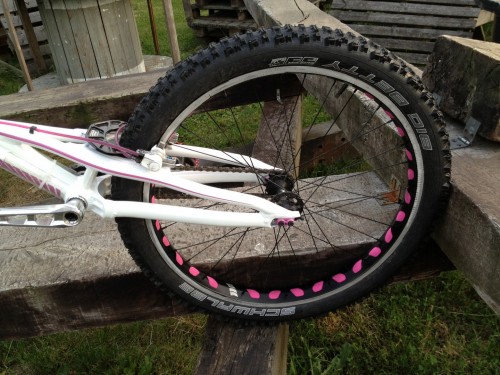 Here are the full specs of the bike:
Frame: Ozonys Curve 24 HYD
Fork :BONZ light
Stem :BONZ
Handlebar:Try All Carbon
Brake front :Tune Kill Hill Pink editoin
Brake rear :Brake Force One custom HS33
Crank : Echo SL 170mm
Pedals:Monty
Freewheel :BONZ 18 clicks
Bashring :BONZ 18 clicks CNC
Rim front :BONZ 32mm 28
Rim rear: BONZ 47mm 32 single wall
Hub frontt :BONZ disc 28
Hub rear:BONZ disc 32
Tire Rear: Schwalbe Big Betty
Tire Front: Schwalbe Rocket Ron
Rimtape: Pink
Weight: 8.2kg