It's the 6th time that the Cologne Trials Jam takes place on March, 01.-02. It became one of the most important events on the schedule for many riders in Germany and the surrounding countries: Hannes Herrmann, Raphael Pils, Rick Koekoek, and Andrei Burton just to name some of the best riders of the last years. From one came the other and the jam grew into a sporty and entertaining weekend.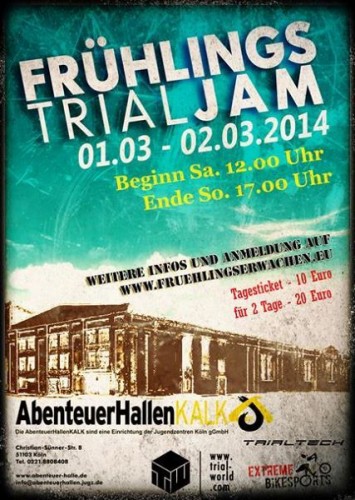 The first jam was held 2009 and it was more or less an idea of the local riders in and around Cologne , but it has changed a lot in the following years. Numerous photos and videos contributed their part to the fact that more and more riders came every year to join this unique event.
The event takes place in a heated indoor climbing area and in a skate and BMX Park both in the same building. Both become single large trials park, which includes various materials and objects such as cars, big trash containers, and countless wooden obstacles. The whole area gets totally rearranged to a trials-only zone. There will be a recreation area with food and drinks and a big video wall with trials only videos – what did you think?
The organizers and all the German riders would be glad to see international guests. You are highly welcome! Follow the riders from Norway, France, Netherlands, Belgium, Denmark, Austria and even Spain and join the Cologne Trials Jam – "Freedom of Movement"!
Great news for all participants: Red Bull as well as the British manufacturer of trial parts Trialtech are again a partner of the Trial Jam 2013 and provides attractive prizes. As a new partner there is Carles Diaz online shop http://Trial-World.com.
Each participant receives a ticket on entry and has the chance to win one of these prizes. Trial-World.com, Trialtech and Red Bull wishes all participants to have lots of fun on the jam and good luck in the draw.
For the first time there will be a current Elite World Champions with us! All the way from Spain Abel Mustieles will join the event and show his amazing skills!
So don't miss to train with best riders from Germany and from the world! Official Website:http://www.fruehlingserwachen.eu/