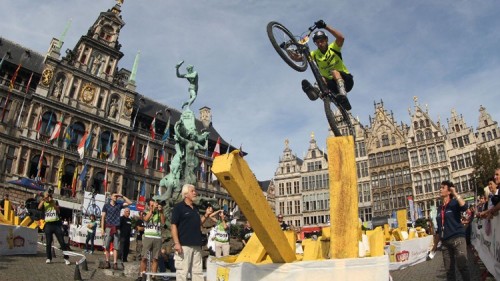 This year the best event was ….. ANTWERP! Congratulations for Kenny Belaey and his Team for the price.
Enterbikes news:
"We're very proud to announce our World Cup is been elected best event of the UCI Trials World Cup series 2014!!!
Yet, our main goal by organizing the World Cup in Antwerp is not to be voted as best 2014 event but to promote the sport and give it the attention and respect it deserves towards the riders, UCI, sponsors and public. And if that ends in the result of best 2014 event, well that's just great!!
We're very motivated for next year, to deliver the same quality … and a bit more #ToBeContinued"
UCI news:
"The fifth and final round of the 2014 UCI Trials World Cup, which was held in Antwerp, Belgium, has been voted best event of the series.
Four-times World Champion, Belgium's own Kenny Belaey, is a driving force behind the organisation of the Antwerp event, which received praise for its amazing atmosphere and spectacular location. Voters included the top athletes of the UCI Trials World Cup, UCI staff and media representatives.
The market square in front of the famous Antwerp City Council building provided a great atmosphere during the competitions. The athletes performed under the watchful eye of the brave Roman soldier Silvius Brabo whose sculpture dominates the square.
Antwerp returns to the UCI Trials World Cup calendar in 2015, once again hosting the final round in September.
The winner will receive the trophy during the organiser's seminar which will take place at the UCI headquarters in Aigle, Switzerland."