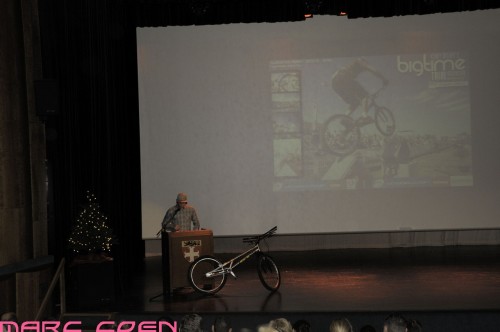 Yesterday evening Kenny Belaey invited a good 200 people for a preview of the new Kenny Belaey Big Time Adventure episode in the town hall of Aalter. Before the preview Kenny's trial club International Trialteam organised a club training at the training ground in Aalter. And despite the bad weather some riders came out to ride while others enjoyed the warm wine and hot chocolate. After the training Kenny invited the clubmembers and the volonteers from the WorldCup in Aalter and Antwerp for a dinner.
Later that evening the 200 invitees could enjoy the preview of the new episode of KB Big Time Trial Adventures which takes us back to the 2 World Cup races in Belgium. It does not only shows us the races and interviews with a number of the top riders both in the 20″ and 26″ category, but also gives us some insight in the organisation of the events as well as Kenny's recovery after his injury in Aalter.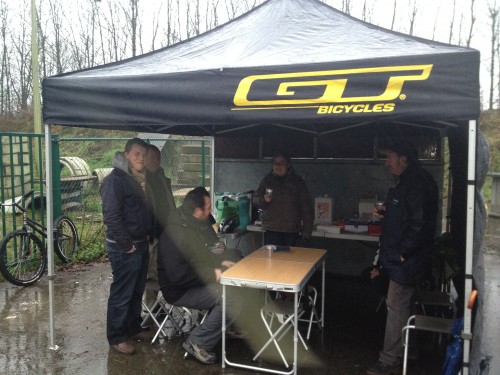 At the beginning of the evening there was also time to thank all of the volonteers who helped making the 2 World Cup events a big success.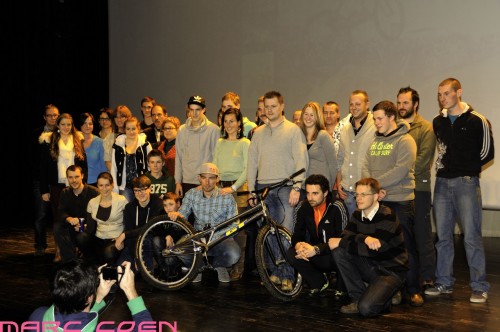 At the end of the event we also had some time to talk to Kenny who looked back at his injury and talked a little bit about his new GT prototype.:
"A few weeks after I received green light from the doctor to train and ride again following my crash in Aalter, my wrist began to hurt again. It was OK till the World Championship but then the pain was almost unbearable. I still had the roadtrip to Japan where I had to give some shows and I really was in pain during those shows, fortunate I was able to hide it in front of the camera and the crowd. Back home I went back to the hospital and had my wrist checked again. The doctor then said they allowed me to ride to quickly, the based the decision on an echo but should have taken a CT scan. Recovery goes well but I do not know yet when I will be able to ride again. It could still take a month or 2."
We also had the opportunity to see Kenny's GT prototype. It looks a lot better in reality than the pictures we have seen on the web. Wesley Belaey, Kenny's brother, had a chance to ride it and said the bike was extremely stiff and rode very well. But as this is the first prototype there probably will be some changes before Kenny will ride it at the competitions next year.
Here is al link to the teaser of KB Big Time Trial adventures in case you did not see it already: KB BigTime broadcast will start next year on Extreme Sports Channel