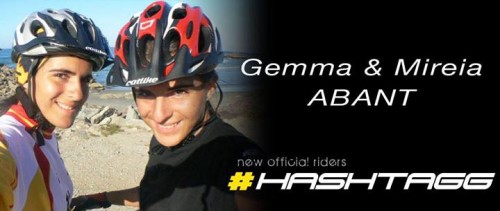 Yesterday we l two new drivers in the team Hashtagg were announced, inspired by the late Koxx team! This time the 2 Spanish Abant sisters joined Hashtagg, unlike other team pilots they have always been on Monty bikes and had no other bike since the end of Monty's competition team!
Two of the best women in trialzs therefore run for the new brand of the Hermance family.
Here are the palmares of the Abant  twins:
38 WORLD TITLES !
Welcome to Gemma and Mireia ABANT, new HASHTAGG riders.
GEMMA ABANT
10 times World Champion:BIU World Champion 2005, 2008, 2009, 2011, 2012UCI World Champion 2008, 2010, 2012UCI World Cup Champion 2010UCI World Youth Games Champion 2007
4 times European Champion:UCI European Champion 2013BIU European Champion 2009, 2012, 2013
13 times World Champion by Teams:BIU World Champion by Teams 2004, 2005, 2006, 2007, 2008, 2010, 2011, 2012UCI World Champion by Teams 2008, 2009, 2010, 2012, 2013
MIREIA ABANT
5 times World Champion:BIU World Champion 2004, 2006, 2007, 2010, 2013
4 times European Champion:UCI European Champion 2006, 2007BIU European Champion 2005BIU European Cup Champion 2012
10 times World Champion by Teams:BIU World Champion by Teams 2004, 2005, 2006, 2007, 2008, 2010, 2011, 2012UCI World Champion by Teams 2004, 2007