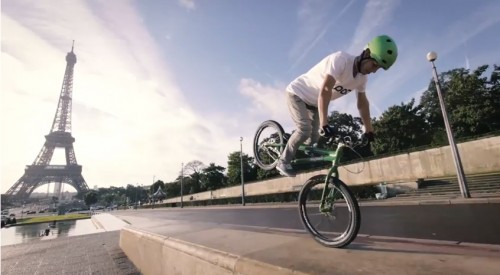 Paris Is My Playground' is the latest project from the guys at aepic.tv. Director Arne Totz and producer Tobias Bucher used the last days of summer 2013 to take a trip to Paris with trial biker Fabio Wibmer, camera operator Adrian Kuchenreuther and photographer David Robinson.
Fabio Wibmer, the 18 year old team-mate of Danny MacAskill's at Inspired Bicycles, is a young street trial athlete from East Tyrol in Austria. As a kid he spent most of his time on a bike, which is when he discovered a special love for trials.
In order to improve as an athlete, Fabio is training almost every day on his home ground, but the possibilities back home can be limited. As he wants to keep improving further, Fabio seeks out new challenges and new places to ride. One place in particular is fascinating for him – Paris.
Through its variety of exciting and diverse architecture, Paris offers a perfect mix of new spots, new experiences, breath-taking locations and unique possibilities combined with a bit of gallic flair! At the end of the summer, Fabio and the team from aepic.tv set out to explore the French metropolis, searching for the perfect shot.
The Making Of
Source: Redbull.com