Last weekend there was the traditional Bikes For Prague . An important event in the city of Prague where the bicycle is in the spotlight for 3 days. Through the work of the team and Trialshow.cz local riders made it clear that Trial attracts the public. If last year there were only Czech riders, this year multiple Czech champion 26 inches Vlastislav Kabelac Cihacek , decided to give an international dimension to For Bikes. For this he invited the French Aurélien Fontenoy , German Hannes Herrmann and Hungarian Laszlo Hegedus ! Needless to  say that there was a lot of spectacle!.
On Friday, the audience was treated with several shows and was able to follow the evolution of local drivers. Aurélien Fontenoy, who arrived first took the opportunity to feel the athmosphere. In the evening Lazlo joined him while 'Hannes arrived on Saturday morning. After a memorable first evening we are back in Hall 5 of the show.
The international competition is only open to 26-inch drivers. In the morning there was the qualification of the Czech riders . The first 3 to team up with 3 foreign pilots for a unique competition of its kind. Two teams are facing each other by adding the points of 2 pilots . The team with the fewest points wins the competition . Teams are determined by drawing lots.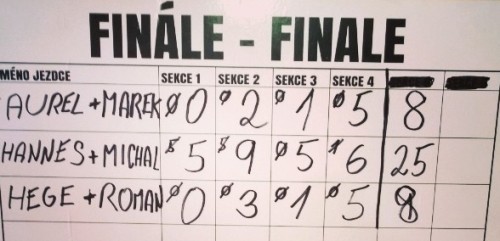 as of the first section, the Aurelian and Marek teams took the lead in the competition followed by team Hege / Roman. After a failure Hannes was already 5 points behind . IT was easy for the public to follow the competions as all teams moved from section to section together. Zones 2 and 3 take place in the heights ! You should not tremble riding those. Although team Hannes / Michal was no longer in the race, Hannes showed a great run in section 3 after a transfer to the rear wheel and while it was in the void,  he continued his move making all assistents tremble. sigh …… it was hot .
Aurélien and Lazlo complete the 4 sections with zero points . It will be the Czech riders who will make the difference . Marek finished with 8 points and one point ahead of his friend Roman. The team Aurelien Fontenoy and Marek Kotzot won the 2014 edition of For Bikes.
Here is the podium and photos of the race signed by Frankymage