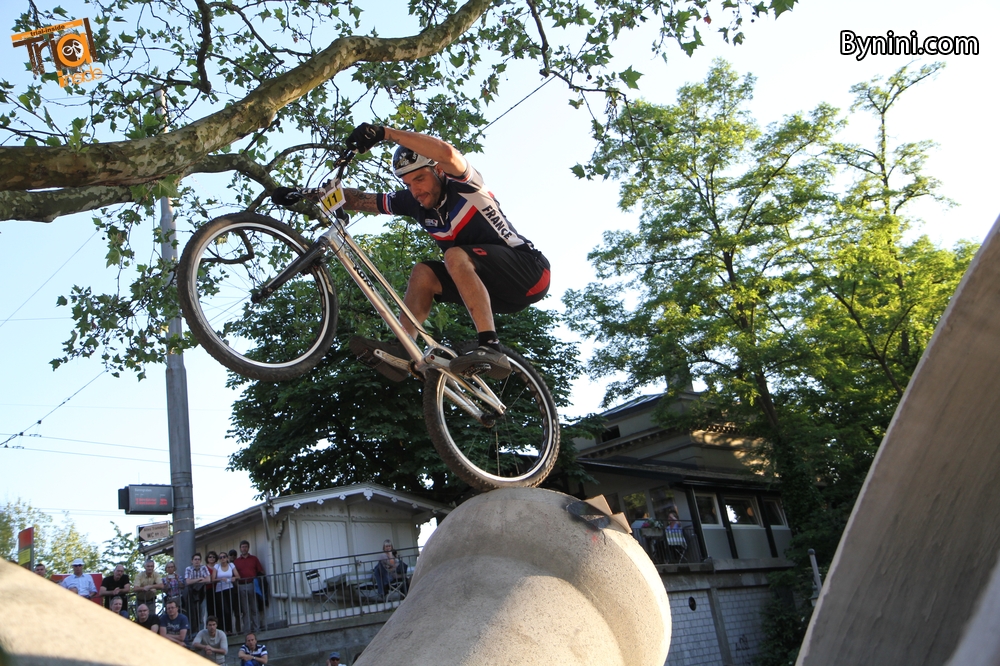 On his return from Switzerland Vincent Hermance, who finished second in the European Championship Elite 26 inches answered our questions.
- After a successful qualification, that you won, with what state of mind you started  the final?
VH: Confident, not necessarily only after that good qualifying but also in light of what I have accomplished so far during the season.
- In  the finals, you were the only rider that never took a 5 in any of the sections. But it was not enough to stay in touch for the win. Where do you win the race according to you?
VH: You can win or loose the race everywhere, in fact, I did not take any 5 but my level of riding was not a 100% of my ability and especially less then Gilles his level during the finals.
- When starting your super final you're almost certain to finish in second place, it should not be easy to manage this ?
VH: It is on that level that I am even better motivated! The sections wer good and beautiful and asked for a fight, I love it  and nevertheless enjoyed it a lot. It was nice as well to ride these big secctions  without any pressure as I knew it was almost impossible to catch up with Gilles.
- A second place at the European Championship is a good result after a year in the 20 inch category?
VH: I won't say it is bad, but I ride to win, so when this is not the case satisfaction can not be there. In any case nothing it has nothing  to do with the European championship last year, both less frustrating but also more annoying to have been out of the race for the win this time.
- The season continues next week with the Coupe de France, a good way to keep the pace?
VH: It may even be a good way to carbonize! The field of riders in Europe was really hard, I costed me a lot of effort, really. But I'll have Oz, the thing that drives me is the competitoin then I leave on. Plus I'm on vacation in a few days. The feared man with the hammer is there but to a lesser extent than expected so I will struggle for a while but I will soon be able to pick me a big workload and assimilate effectively.
- A good rest of the season and see you soon on the sections.
VH: Thank you Franky!