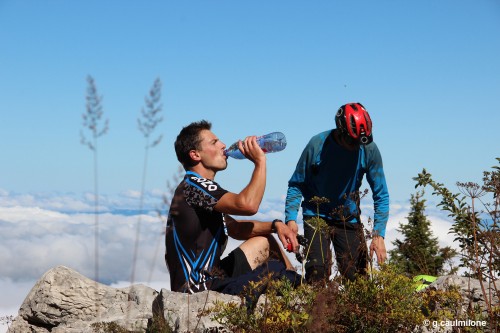 After the series "Ride in love with …" based on the 4 seasons, here is the latest video directed by Geraldine Caulmilone with Alex Balaud and Guillaume Dunand.
The original idea was to offer a slightly different video featuring two riders in two disciplines : mountain bike enduro and mountain bike trial. The idea came from a hike in the mountains of Parmelan, an unusual place overlooking the lake of Annecy. With lapiaz (1) surrounding, it is an incredible place for biking.
We talked to Guillaume DUNAND was immediately excited by the idea of a trial. The script came during the shooting listening to each other's desires.
The shooting was quite epic : the site is inaccessible by car, so we needed to carry all the gear on our back for 2 days, on a rough ground. Lapiaz is beautiful, but not easy to cope with.
Finally, this distinctive feature impressed us so much that it was obvious to name the video after it …. LAPIAZ.
(1) (the lapiaz is a geological formation in the surface limestone or dolomite, created by the runoff of rainwater that dissolve the rock or cryoclasty, which form a large rocky ledge covered networks diaclase or cracks ).