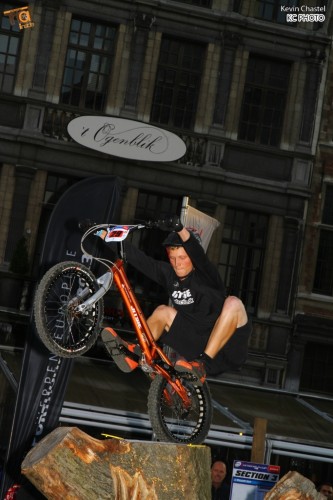 The young Danish driver made a very interesting 2013 season with titles in BIU and two UCI World Cups. In Antwerp he showed beautiful moves which confirmed his results on the major championships where unfortunately for him he finished off the podium inboth  the world championship and european championship. Here is our encounter with Jonas Boritz Kristiansen, the Danish trialist.
Jonas Boritz Kristiansen: Hello, yes sure I have time, My name is Jonas Kristiansen, I'm 18 years old and I'm from Denmark and I've been riding biketrial since I was 12.
I'm two times Danish Elite Champion. In 2012 I won the BIU European Cup in the junior category, and in 2013 I became BIU junior World and European champion. Also in 2013 I became 4th in the UCI European Championship and the World Championship in the Junior category.
Trial Inside:  Whom trains with you, are there many riders in your city?
Jonas Boritz Kristiansen: Normally I train alone, as there is not many trial riders living near me. Sometimes I go to a biketrial club called Viborg Trial Klub, and there I train with some of the other danish riders.
The main problem about living in Denmark and riding trials, is that there isn't many rocks, actually almost none. So I've built up my own trial-park in my garden, and luckily I have a few rocks near my place, but nothing big. In Denmark it also gets quit cold in the winter, so I can't train outdoor. I have a little spot in a heathed hall, were I train during the winter. Beside training on my bike, I do a lot of strength training during the winter, to prepare myself for the upcoming season.
Trial Inside: What's bike do you rida and with what components is it equiped?
Jonas Boritz Kristiansen: At the moment I'm riding a GU 2013, with rockman carbon bar, rockman rims, and a Rockman fork. I get my bike from my sponsor in Denmark, TRIALACTION.DK. I am also sponsored by JITSIE, who provides me with the best gear out their, the JITSIE Airtime.
Trial Inside: You've made a very good seasons, congratulations. Very Nice in BIU and UCI ! What do you expect in 2014?
Jonas Boritz Kristiansen: Thank you very much. My goals for 2014 is to gain more experince, as I'm going to ride the Elite class now. I will focus a lot on my big jumps, as this was what I lacked just a little in Antwerpen this year. If the day is right, and the sections are for my style, I hope to me able to qualify for a final in the world cups next year, But I have to work hard
Trial Inside: In 2012 you finished 12th and in 2013 you finsih 4th on the UCI World Championship! Great move to the top!
Jonas Boritz Kristiansen: Yes, in 2012 I did my first UCI competition, and it was very different from what I was used to, riding the BIU. I learned a lot in 2012, and I went home knowing what I had to work on, and all my hard work during the winter payed of.
For me it was great to ride in a world cup! I really like the atmosphere during the UCI competitions, and I especially liked the last round in Antwerp.
Obviously I like how Abel Mustieles rides a lot, because he is pushing triasl to a new level. But I must say, that the rider with the best style is Vasek Kolar, as he is a very different rider to many others!
Trial Inside: Thank you very much, see you on the sections next season.
Jonas Boritz Kristiansen: Thank you, see you!