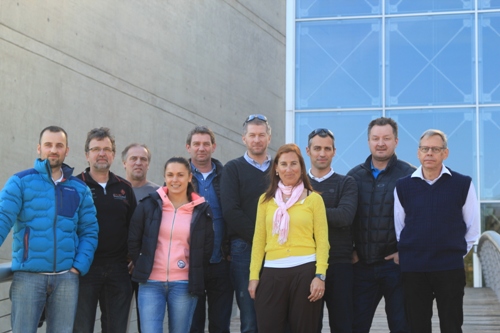 For the second year in a row, the UCI organised a seminar at its headquarters in Aigle for organisers of events in the forthcoming season. The seminar was held on 17 March. Representatives from the 2014 UCI World Cup rounds that will be held in Krakow, Moutier and Antwerp (see photo) attended, together with the organisers of the UCI World Championships in Lillehammer and World Youth Games in Zawiercie. The attendance of the World Championships organisers was a welcome innovation this year. "This seminar is an excellent opportunity for everyone to share their experiences and this year we sought to increase the number of participants," said Dani Parramon, UCI Trials Coordinator.
The new host cities of Krakow and Zawiercie in Poland are promoting major international events for the first time. The town of Moutier in Switzerland is returning to hosting a round of the World Cup after a six-year absence. Seminar participants had the chance to examine the new directives of the organisers' guide and on the updated UCI Trials section building guide (with the emphasis on keeping venues compact), but most discussions concerned future trends to guide the discipline towards greater success. Several measures were the subject of consensus at the seminar as well as at the Commission meeting of 20 March.
First round of the 2014 UCI World Cup in Krakow to be streamed live
The members of the Trials Commission, at their meeting chaired by Peter Fisch, had a lengthy exchange about the format of competitions for the 2015 season. The aim is to encourage venues to present candidatures to host events. The proposals made at the meeting will be finalised at the next Commission meeting on 1 July before being submitted to the UCI Management Committee for approval. The Commission approved the first broadcast of an event by means of online streaming. Coverage will be provided of the opening round of the 2014 UCI World Cup from Krakow (30 May to 1 June). This will serve as a trial run, under real conditions, to test and build the foundations for possible comprehensive online coverage in 2015. Finally, the Commission will again award the UCI Trophy for the best round of the World Cup this year. The first winner was Meribel (France) in 2013.
Photo (from left to right): Tomek Kramarczyk (Krakow/Zawierce), Rolf Leiser (Moutier), Laurent Minder (Moutier), Diana Sordyl (Krakow/Zawierce), Jo Björner Haugen (Lillehammer), Thor Nagell (Lillehammer), Fien Lammertyn (Antwerp), Dani Parramon (UCI Coordinator), Kjell Tore Björnhaug (Lillehammer), Peter Fisch (President of UCI Trials Commission).