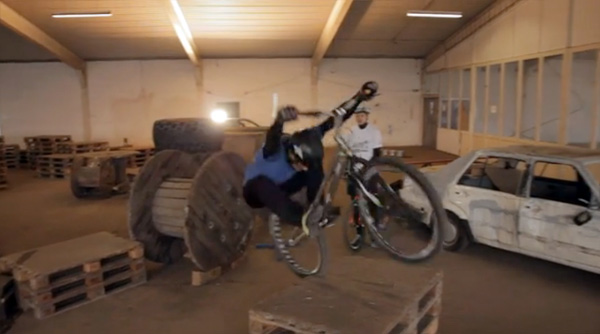 To start up the season 2013 without competitions going on in Germany OD Films took the chance for some indoor riding at the training place of the ASC Melsungen in Fritzlar Germany. It was a good opportunity to meet with friends, train on the great obstacles and finally to make some good film shots.
The riders in the video are Lukas Hoppe, one of the most promising young riders in Melsungen and third in the world youth Games Class Cadet 2012, Marc Schröder German Junior Champ 26" in 2008 who has recovered from some serious injuries in the last years and is training for his comeback in the international competitions. Further coming down from Hamburg together with me is Stefan Lange who is one the most experienced riders in Germany and training for another international season and to give Hannes some competition in the German Championships.
And Carles Diaz second in the world championships 2006 and 2007 who said when asked what to write about him "The fuckin' Carles Díaz, riding the 24″ just for fun after stopping with competitions and keeping motivation by learning new technics." Carles is still missing the warm Spanish weather but his duties in his company Bikes in Motion/Trial World is keeping him busy. After the difficult times in Melsungen and the unexpected death of Joachim Will it is good to enjoy a session with friends in the sport we all love.
Thanks for watchin enjoy it if you want to see more come and visit my Fanpage at → http://www.facebook.com/pages/OD-Films/211577058971811?fref=ts