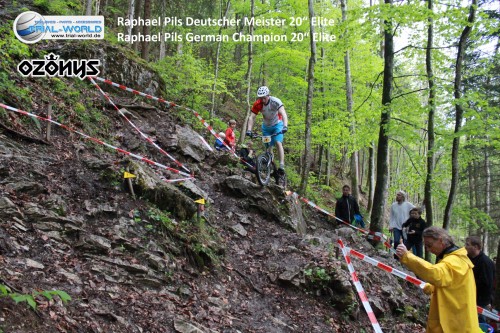 The Junior 20″ World Champion adds the title of German Elite Champion 20″ to his palmares. The Cadet Word Champion, whom rode his first final in a World Cup at Heubach wins the German 20″ Junior title.
The womens was just as indecisive, but it was finaly Andrea Wesp who won the national title before Romina Fix and Bettenhausen. These 3 ladies were also on the podium at the first World Cup in Aalter in 2012.
In the Elite category, Raphael Pils confirms his potential and shown again that he is a real championship rider. He wins the title before his team mate from MSC Schatthausen Matthias Mrohs after a great fight between them. Lucas Krell, finalist at the 20″ junior World Championship in 2012 completed the podium.
Dominik Oswald, who seems to be in great shape after his performance in Heubach wins the Junior title before Lukas Hoppe and Sebastian Krell.
ELITE 20 pouces,
1 Pils Raphael MSC Schatthausen
2 Mrohs Matthias MSC Schatthausen
3 Krell Lucas MC Neuburg/Donau Trial World
4 Lorenz Kai RMSC Ölbronn
5 Lehmann Heiko BMX-Club Württemberg MSC Falke Sulz
6 Hoffmann David MSC Schatthausen
7 Wenzel Wolfgang TSV 1892 Heiligenrode Bikes in Motion
Junior 20 pouces
1 Oswald Dominik MSC Münstertal
2 Hoppe Lukas ASC Melsungen Bikes in Motion
3 Krell Sebastian MC Neuburg/Donau
4 Strasser Andreas MC Neuburg/Donau
5 Heckl Sebastian MC Neuburg/Donau
6 Schulze Jonas ASC Melsungen
7 Hantel Lukas MSC Brake
8 ArulananthamAbiharan TSF St. Wendeler Land
Dames 20 pouces
1 Wesp Andrea MC Neuburg/Donau
2 Fix Romina MSC Hornberg
3 Bettenhausen Ann-Christin ASC Melsungen GER
4 Stauch Marie-Sophie TGV Schotten Bikes in Motion
5 Dingwerth Skyla TGV Schotten