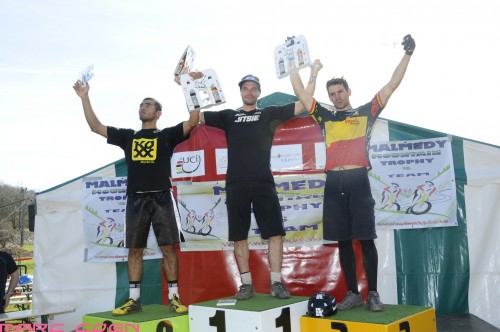 This Sunday the first round of the Trial Belgian Pro Series, an UCI C1 competition, kicked off in Malmedy. A good 50 riders in the different categories were present for this first round. Amongst them a number of international riders, mainly from France and Germany. The young riders started at 10:30 for their competition of 3 rounds with 5 sections.
At 11:30 the Cadet, Juniors, Men Elite and Women Elite started. The sections were hard and long and that could be seen in the penalty points in the first round. In the Elite Category Vincent Hermance finished the 1st round with only 2 penalty points. The other riders all scored more then 23 penalty points. Vincent apparantly found a good rythem and won the competition with only 9 penalty points, 1 more in the 2nd round and 5 in the 3rd round. Kevin Aglea finished second far behind Vincent with 49 penalty points. Iciar Vandenberg, Belgian champion completed the podium with 56 penalty points. Home rider Pierre-Charles Thomas became 4th with 61 penalty points. It was good to see Pierre-Charles riding the sections again after an absence of 1 year because of a hard crash.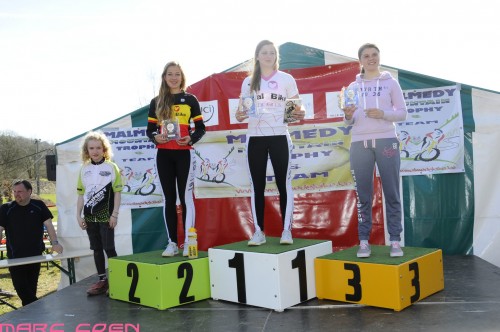 In the Women Elite Category the victory was for Perrine Devahive. So a good start of the season for the girls from I Love Trial Bike For Girls! Aurore Defraitteur completed the podium. Charlotte who injured her ancle during training on Saturday had a hard crash in the 2nd round but was able to complete the race and hold on to 2nd spot.
The results of the other categories will follow later in the week.