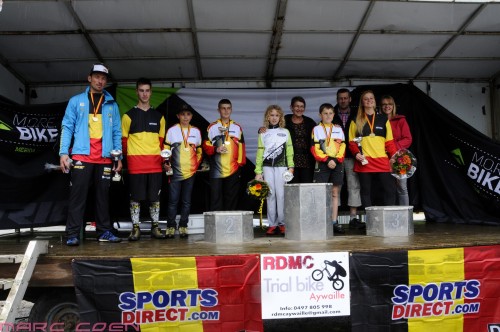 Last Sunday there was the Belgian championship organized by RDMC Biketrial in Aywaille. The young riders whom started in the morning have been lucky and could complete their competition on dry conditions, the others  had bad luck,  after a good 30 minutes in the race it began to rain very hard, which did not help as the sections were already very difficult. When you see the penalty points you can ask yourself if maybe they were not too difficult. A lot of 5′s everywhere, this is not motivating for the riders or enjoyable for the spectators.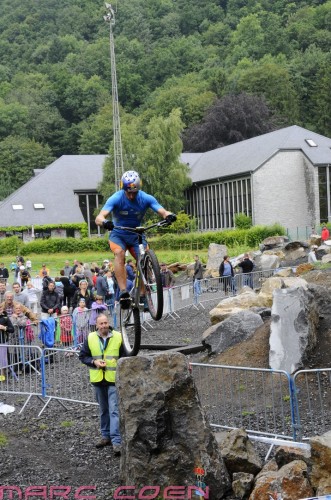 In the elite category it is Kenny Belaey who takes the win before Iciar Van Den Bergh and Nicolas Massart. Kenny also has a couple of 5′s in his first round, but then he just returned from the states on Saturday!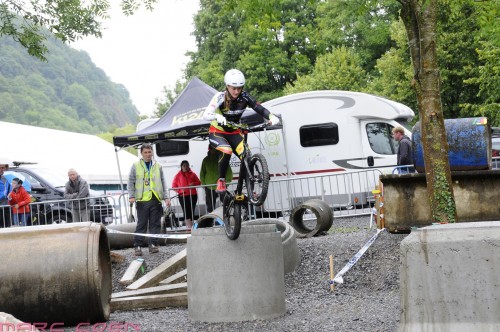 In the womens category it is Devahive Perrine who takes the win before Charlotte Coen. The sections definitely were too difficult for the women as Perrine finished with 85 penalty points!
Here are the complete results:
Elites
| | | | |
| --- | --- | --- | --- |
| 1 | Belaey | Kenny | 21 |
| 2 | Vandenberg | Iciar | 51 |
| 3 | Massart | Nicolas | 76 |
| 4 | Dammen | Yoric | 87 |
Dames Elites
| | | | |
| --- | --- | --- | --- |
| 1 | Devahive | Perrine | 85 |
| 2 | Coen | Charlotte | 90 |
Cadets
1
Grommerch
Bastien
39
 
2
Sintzen
Maximme
90
 

Miniemen

| | | | |
| --- | --- | --- | --- |
| 1 | Léonard | Romain | 39 |
| 2 | Lassance | Romain | 55 |
| 3 | Maniet | Romain | 79 |
| 4 | Maréchal | Eliot | 83 |

 
 
 
 

Benjamin

| | | | |
| --- | --- | --- | --- |
| 1 | Le Cloirec | Tom | 3 |
| 2 | Verkenne | Samuel | 56 |
| 3 | Maniet | Loïc | 87 |

 
Poussin
| | | | |
| --- | --- | --- | --- |
| 1 | Coulée | Tim | 5 |
| 2 | Arcuri | Valentino | 21 |
| 3 | Van Daele | Daan | 22 |
| 4 | Frederickx | Stefan | 32 |
| 5 | Delaere | Nicolas | 71 |
Promesse
| | | | |
| --- | --- | --- | --- |
| 1 | Sintzen | Maurine | 5 |
| 2 | Parmentier | Margot | 18 |
| 3 | Warland | Pierre | 49 |
Here are a couple of pictures: