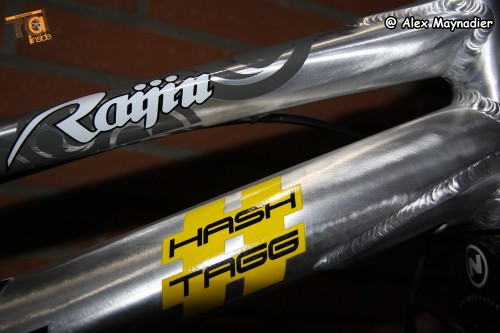 Hello, I am very proud to present the Hashtagg Raijin. It arrived yesterday (Thursday, 1/16/14), this is a raw version. It has the good decals but the final version will be black.

The RAIJIN HASHTAGG By Vincent Hermance for… par FrankYmage
"We received the frame as quickly as it was possible to have it here tonight in Toulouse.
We started with a relatively simple design of a bicycle tubes 7.
The objective was to optimize it to the maximum. We have a very lightweight frame that weighs 1kg530. To achieve this weight we worked with all machined parts.
The head tube is super-open. Reinforcements have been lightened.
Around the bottom bracket you will see that the reinforcements are minimalist in places where there is no stress.
We have developed a new Yoke. The also something very simple and optimized.
We have fully integrated the Yoke into the upper pods.
The rear dropouts have been reduced to its simplest form.
We have worked hard on the back part, especially on the shape of the tubes, which have many levels. The aim is to increase the stiffness.
My first impression of the bike is very good, to be honest I just rode on it during warm-up which is a little short for a truly comprehensive view. But all sounds good, the bike is super light and stiff. We are also pleased with the look, hopefully it pleases.
To conclude I would like to thank the French post because I should have been riding with the Hashtagg pedals but they lost the package! "